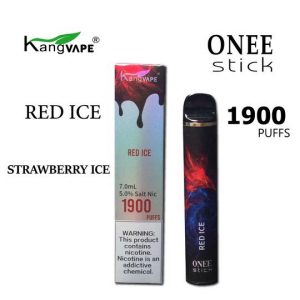 Kangvape Disposable – Red Ice – 1900 Puffs – Disposable Vape has taken the pre-filled Onee Stick 1800 Puffs disposable vape and added more juice so you can enjoy it longer, then made it fun with new unique names.
Kangvape Disposable – Red Ice
You will get everything you knew and loved about pre-filled one sticks, plus more juicy high octane flavor from Kangavpe disposables.
New name, new look, who this? Strawberry Ice is now Red Ice. Get the same intense berry flavor from Strawberry Ice in its new and improved packaging. Sweet juicy strawberry drips from this intense puff bar. Along with this sweet decadent strawberry juice, there will be a cooling quality of menthol.
Approximately 1900 Puffs
Draw-Activated
7.0ML of 50MG (5%) Salt Nic Juice
Package includes 1 x KangVape Onee Stick 1900 Puffs Disposable Vape
Flavors Include:

Banberry (Banana Strawberry Ice)
Blue Cloud (Blueberry Lemon)
Blue Razz Ice
Classic Custard (Banana Ice)
Cool Mint
Creamy Float (Cola Ice)
Devine (Energy Drink)
Orange Soda (Fanta)
Lush Ice
Melontime (Melon Ice)
Musky (Guava Ice)
Pitchy Delight (Peach Ice)
Red Ice (Strawberry Ice)
Tropical Ice Cream (Mango Ice)
Tuiti Fruiti (Mixed Fruit)
Vintage (Grape Ice)
Yellow Breeze (Pineapple Ice)
find more vape disposables at buffalodistro.com here
Want to find vape disposables retail? Click here