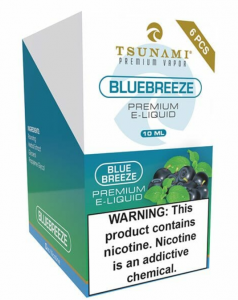 Every 10 ML, child-proofed bottle of Tsunami Blue breeze flavored E-Liquid contains premium, high PG vape juice. It has a 100% satisfaction guarantee. Accordingly, the formula is a 70%/30% ratio of PG and VG. Resulting in a 70% propylene glycol formula to provide a nice hit to the throat. Additionally, the 30% vegetable glycerine ensures light to medium cloud density. This product is even available in five nicotine concentrations spanning from 0% nicotine to 24% nicotine.
But what is Blue Breeze anyway?
Tsunami Blue Breeze flavored E-liquid is a carefully balanced blend of sweet blueberries and mint.
Thereupon, using mint as the cooling factor of the E-Liquid instead of menthol, we avoid an intense arctic freeze in favor of a cool breeze. To learn more about menthol v. mint, check out our awesome write up here!
Wait, did I say blueberry and mint? Is that actually good?
Let me walk you through the thought process.
In the first place, every puff of E-liquid is an experience. So for every flavor, the producer must consider where they want their flavor to take their vapor.
Tsunami Blue Breeze flavored E-liquid is created with a mind for summertime.
So long as blueberries bloom from April to late September. By and large, we pull them hot off the vine on a breezy summer day.
Inhale.
Exhale.
That's it.
With this in mind, this flavor is warm yet cool. Sweet and refreshing. Regardless if you're actually in the summer sun or finding the bits of it any way you can, like through your pod system.
Want to give Tsunami Blue Breeze flavored E-Liquid a try? Check it out here at Buffalodistro.com!
To find out more about blueberries, click here!
What do you think about the Tsunami brand? How about the idea of mixing blueberry and mint? Let us know what you think in the comments!